Painting Purchased by the San Francisco Arts Commission for the Office of the Chief Medical Examiner
6/30/2017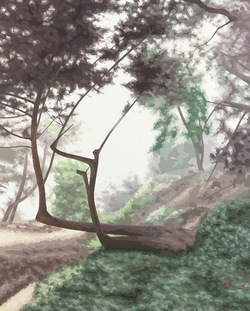 A painting by Elaine Coombs was recently purchased by the San Francisco Arts Commission for placement in the new Office of the Chief Medical Examiner. Preferring the Poetic, 2015 (acrylic on canvas over panel, 50 x 40 inches), is now in the collection of the City and County of San Francisco. This is the second purchase of Coombs' artwork by the Arts Commission for a public building. Several of her works are featured in the Zuckerberg SF General Hospital and Trauma Center.
---
Coombs Painted Heart Sculpture Sold Pre-Sale at the San Francisco General Hospital Foundation's Annual Fundraising Auction
2/20/2017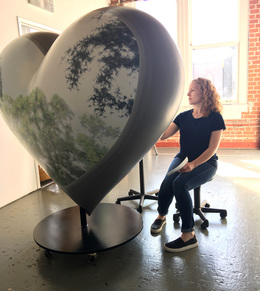 In 2016, Elaine Coombs was selected as one of only six artists to paint a new Hearts in SF large heart sculpture for the 2017 public art series. Her textural San Francisco landscapes make them a natural for this prestigious fundraising event and this honor puts her artwork in the company of art luminaries like Squeak Carnwath, Hung Liu and Rex Ray.

Each year, uniform heart sculptures are painted by different artists and installed at locations throughout San Francisco, including Union Square. The heart sculptures are auctioned off at the end of each year's installation with the proceeds going directly to the foundation. As of 2013, more than 10 million dollars have been raised. This February, the annual Heroes and Hearts Luncheon was held at AT&T Park in San Francisco. Coombs' heart had already been sold months before to a private collector. It was displayed prominently during the festivities.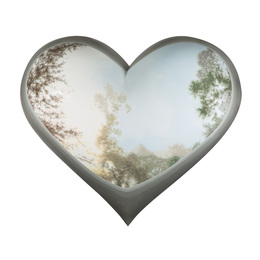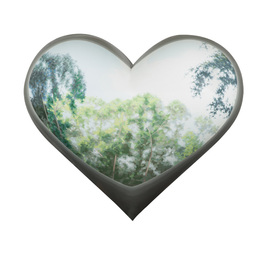 For the Love of Fog by Elaine Coombs
Acrylic and automotive clearcoat on fiberglass sculpture
60 x 72 x 40 inches
2017 Hearts in SF Public Art Series
---
Imagery 'Artistry Series' Wine Label Release
1/3/2017
Artists Elaine Coombs and Heather Patterson collaborated on the creation of a set of wine labels for Imagery Estate Winery in 2016. The special Artistry Series wine is released once per year in limited quantities and available only by joining their exclusive Wine Club. The four original artworks are currently on display in the gallery at Imagery Estate in Glen Ellen, CA after being included in a six month exhibit at the Museum of Craft and Design in San Francisco called Beyond the Pour II - The Creative Process. The artworks were challenging to create, as they had to function both individually and together when stretched across all four bottles at two different heights. Below are Structural Elements Naturally Connected, 2015-16, Acrylic and mixed media on panel, approx. 25 x 96 inches overall.



More collaborative artwork by Coombs Patterson aka Second State can be found at http://secondstate.weebly.com