New Imagery Estate Wine Label Commission on Display
3/7/2018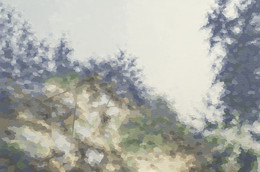 In 2017, Elaine Coombs was invited to create a special artwork commission that will be placed on a wine label for Imagery Estate Winery. The artwork will be matched with a wine in late 2018, but in the meantime, the painting is currently on display at the winery's art gallery in Glen Ellen, CA. Contact Imagery for more details.

Artwork above: Fruitfully Veiled, 2017. Acrylic on panel, 20 x 30 inches. by Elaine Coombs
---
Additional Works Included in the Zuckerberg San Francisco General Hospital Collection
2/14/2018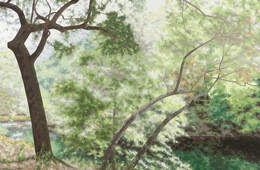 Two more Coombs' artworks have recently been selected for inclusion in the Two-Dimensional Artwork Collection at Zuckerberg San Francisco General Hospital and Trauma Center. These 2 images, as well as the 5 works chosen for the hospital previously, are now in the public collection of the City and County of San Francisco, San Francisco Arts Commission.

The collection is currently comprised of 230 reproductions on aluminum panels installed in the hospital's public corridors and waiting rooms. The original collection was established in 2016 and, due to its overwhelming popularity, is now being expanded upon request from hospital staff to include 64 additional artworks.

---
New Gallery Representation in Colorado
12/23/2017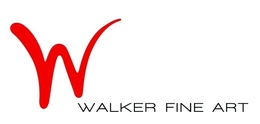 Announcing new gallery representation with Walker Fine Art in Denver, CO! Elaine's Colorado exhibition debut with the gallery will open March 16th, 2018. More details forthcoming... Please contact the gallery directly at

303-355-8955

for more information and a list of available works.
---
Painting Purchased by the San Francisco Arts Commission for the Office of the Chief Medical Examiner
6/30/2017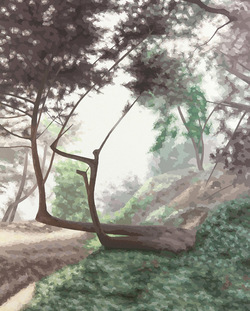 A painting by Elaine Coombs was recently purchased by the San Francisco Arts Commission for placement in the new Office of the Chief Medical Examiner. Preferring the Poetic, 2015 (acrylic on canvas over panel, 50 x 40 inches), is now in the collection of the City and County of San Francisco. This is the second purchase of Coombs' artwork by the Arts Commission for a public building. Several of her works are featured in the Zuckerberg SF General Hospital and Trauma Center.
---
Coombs Painted Heart Sculpture Sold Pre-Sale at the San Francisco General Hospital Foundation's Annual Fundraising Auction
2/20/2017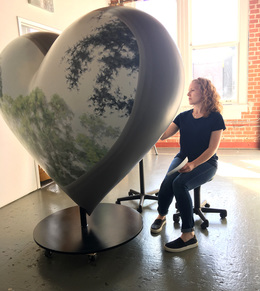 In 2016, Elaine Coombs was selected as one of only six artists to paint a new Hearts in SF large heart sculpture for the 2017 public art series. Her textural San Francisco landscapes make them a natural for this prestigious fundraising event and this honor puts her artwork in the company of art luminaries like Squeak Carnwath, Hung Liu and Rex Ray.

Each year, uniform heart sculptures are painted by different artists and installed at locations throughout San Francisco, including Union Square. The heart sculptures are auctioned off at the end of each year's installation with the proceeds going directly to the foundation. As of 2013, more than 10 million dollars have been raised. This February, the annual Heroes and Hearts Luncheon was held at AT&T Park in San Francisco. Coombs' heart had already been sold months before to a private collector. It was displayed prominently during the festivities.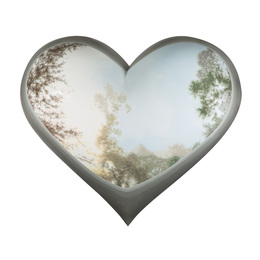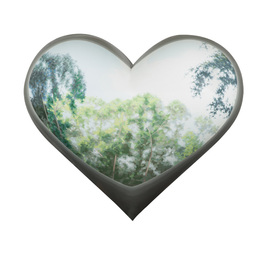 For the Love of Fog by Elaine Coombs
Acrylic and automotive clearcoat on fiberglass sculpture
60 x 72 x 40 inches
2017 Hearts in SF Public Art Series